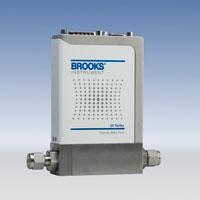 Digital Mass Flow Meter And Controller by BROOKS INSTRUMENT LLC
Related Technologies:
Brooks Instrument GF40/GF80 Digital Mass Flow Controller & Meter

Submitted by Dan Hines on February 26, 2012 - 8:00 PM

Achieves unprecedented performance, reliability, and flexibility in many gas flow measurement and control applications

The Brooks GF40 (elastomer seal) and GF80 (metal seal) thermal mass flow controllers (MFC) and thermal mass flow meters (MFM) achieves unprecedented performance, reliability, and flexibility in many gas flow measurement and control applications. It's the perfect choice for customers who use thermal mass flow controllers or thermal mass flow meters on a variety of gases, who need to change gas type frequently, or who need to re-range while preserving gas measurement and control accuracy.

OEMs will reduce the number of gas and range specific MFCs in inventory
R&D, research, and lab users can quickly change experiment conditions and achieve much better actual process gas accuracy vs traditional mass flow devices
Solar, biotech, CVD, plasma, glass, web coating, nanotechnology, vacuum processing and similar large users of mass flow meters and mass flow controllers will greatly reduce their gas and range specific spares inventory

MultiFlow programming is simple & fast - a new gas and range can be programmed under 60 seconds plus the device can be programmed without removing it from service of disconnecting the device from any process or tool control system.

Features & Benefits include:

Diagnostic / Service Port
easy diagnostics and troubleshooting
independent of tool communication
Analog & Digital Communication Options
RS485 analog
DeviceNet
Profibus
EtherCAT
Third Generation Fast Response Sensor
excellent long term stability (<+/- 0.5% F.S/yr)
improved signal to noise ratio
high purge rate capability
lower temperature operation for gases prone to thermal decomposition
Solenoid Control Valve
elastomer or metal seals
high purge rate capability
Temperature Sensor
accurate flow and temperature measurement over full temperature range
real time compensation for ambient temperature fluctuations enable precise gas chemistry control

Product Description
Enhanced diagnostics - the mass flow controller remains one of the most complex and critical component in gas delivery systems. Removing the mass flow controller to determine if it is faulty should be the last resort.
Advanced thermal flow measurement sensor - improved reproducibility at elevated temperatures through new isothermal packaging, onboard conditioning electronics with ambient temperature sensing and compensation. Improved long term stability through an enhanced sensor manufacturing process. Highly corrosion resistant Hastelloy C-22 sensor tube. Optimized temperature profile for gases prone to thermal decomposition.
Manifold / Gas Stick Solutions - many users are looking to reduce the foot print of the gas delivery system by employing standard or customer downport configurations. Brooks will work with you on a proprietary stick, manifold or panel design using downport components as appropriate to satisfy the requirements of the application.

May we help with your Brooks Instrument application?

About BROOKS INSTRUMENT LLC

For more information, please call Cross Instrumentation:
865.966.0969
serving TN, northern AL
770.929.8441
serving NC, SC, GA, AL, FL

visit our website http://crossinstrumentation.com/

REP FOR TN, GA, AL & PAN HANDLE OF FL
Thermal Mass Flow Controllers and Meters
MultiFlo™ Capable Mass Flow Controllers and Meters
General Purpose Mass Flow Controllers and Meters
NEMA 4X/IP66 Mass Flow Controllers and Meters
Secondary Electronics and Software Tools
Liquid Mass Flow Controllers and Oval Gear Meters
Coriolis Mass Flow Controllers
Liquid Flow Controllers
Variable Area Meters
Low-Flow Glass Tube Variable Area Meters
Armored Metal Tube Variable Area Meters
High-Flow Glass Tube Variable Area Meters
Plastic Tube Variable Area Meters
Precision Valves, Controllers, Switches and Indicators
Pressure and Vacuum Overview
Pressure/Vacuum Controllers
Pressure Regulators and Transmitters
Pressure Gauges, Regulators and Display
Vacuum Products
Direct Liquid Injection Vaporizers